About the Author of The Kaweah River Page
When I'm not kayaking, skiing, cycling or golfing you'll find me earning a living strapped to a NT workstation designing Test and Measurement Equipment for Tektronix Inc. in Beaverton, Oregon. I graduated in 1970 with a BS in Mechanical Engineering from the University of Washington, Seattle. My specialty is designing injection molded plastic parts for electronic products using Pro/Engineer CAD software by Parametric Technology Corp. I previously worked on the design of the Tektronix Phaser 350 Color Printer (Acquired by Xerox in Jan 2000). Many of the plastic parts in the 350's paperpath are my design. More recently I was the mechanical project leader, mechanical sytem architect and one of the 4 mechanical designers of the new 4 channel, 500 MHz, 5GS/sec Tektronix TDS3000 series Oscilloscope, which was introduced on Jan 4, 1999.
My attraction to the Kaweah River dates back to my grandparents who operated a small 40 acre farm in Tulare County from 1910 to 1985 and it was they who purchased a residential lot on the Kaweah River in 1950. Our family built a house on the property in 1964 and it is still home to my mother. As a kid I floated the Kaweah in late summer by innertube from Dinely Bridge to town but it was not until 1987 that I made my first decent in a kayak. Now I look forward to my annual vacation in Three Rivers and the excellent whitewater it offers. To date I have made 169 runs on the Kaweah including all sections of the Middle Fork below the Marble Fork confluence, the entire North Fork below the Yucca Creek confluence, the South Fork from the one lane bridge, 6 miles up, to the Middle Fork conluence, and the 5 mile section below the Lake and above the Woodlake Airport. I have yet to run above Yucca Creek on the North Fork or The Hospital Rock section of the Middle Fork in the really good stuff but I have walked and swam much of that section at low water.
Bill Pooley
Here I am running Sunset Falls on the East Fork of the Lewis River in Southwest Washington (in my old Dancer XS)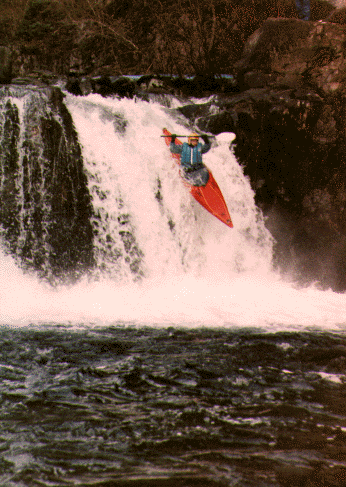 Photo by Cal Diller
---
And here I am coming down Lower Zigzag Canyon on the Upper White Salmon River in Southwest Washington. (Red boat, half way down)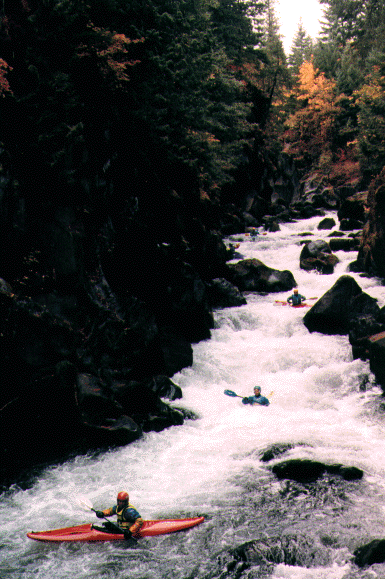 Photo by Charlie Kirsch
---

Copyright © 1996, 1997, 1998, 1999, 2000 by Bill Pooley. All rights reserved.
This page is http://www.c2.com/kaweah/author.html
Last modified: 07.03.00