KAWEAH RIVER LOG, Dry Creek Rd. to Woodlake Airport (below the Dam)
by Bill Pooley
Elevation at the Put-in: 470 ft. Elevation at the Take-out: 420 ft.
Length of run: 4.8 miles
Average Gradient: 10 ft/mile
Overall rating: Class 2+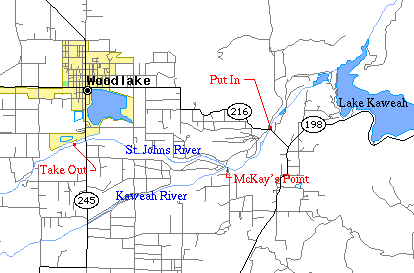 This section is a good late summer run while they are releasing from 1500 to 2500 from Lake Kaweah. The first mile is the steepest with some real class 2 rapids. The bigger drops are all formed by old diversion dams that have been breached. There was a low cable across the river somewhere below McKay's Point so stay alert. Shuttle on the road to Woodlake, turn left (south) in town and go .5 miles to the Woodlake Airport. Drive into the airport and Park under the trees near the diversion dam.
Mile 0 Put-in
Put in at the bridge on Hwy 216 (Lemon Cove to Woodlake Hwy) where it crosses the Kaweah River at the intersection of Dry Creek Rd. (County Road J21)
Mile 1.4 McKay's Point
Diversion Dam. PORTAGE on the right. This is where the Kaweah River splits into the St. Johns River to the right and the Kaweah River to the left. More water goes into the St. Johns. At 2200cfs there was some pretty good river wide surfing 100 feet below the dam. The best surfing was on the Kaweah River side. Take the RIGHT channel to go to Woodlake Airport. The left channel down the Kaweah fork crosses Hwy 245 3.4 miles downstream. I presume this channel is also runnable but you will end up a mile and a half south of the airport. The gradient slackens up below the dam but still moves right along at 2200 cfs.
Mile 4.7 Hwy 245 Bridge
Mile 4.8 Woodlake Airport
Take out on the right bank either above or below the final drop at an old breached diversion dam. At high water this would be an awesome surfing wave if the outrun didn't go blasting into the trees. Not a good place to surf.

Copyright © 1997 by Bill Pooley. All rights reserved.