EAST FORK KAWEAH RIVER LOG, Oak Grove Bridge to Middle Fork Confluence
2002 UPDATE: This is the first update to the East Fork page since 11-05-00. On 6-22-02 I finally met a group just coming off a descent of the East Fork. Flow was 0.0 ft. on the Dinely gauge. Estimated flow on the East Fork stretch was 150-175cfs. The team Ben Coleman, Taylor Robertson, Dave Persolja, Jon Burrill, Derek Beitler, Shannon Carroll and Tanya Shurman is reported to have run everything although some members portaged some drops. Their report called this stretch very tight and not recommended with more flow than 0.0 ft. for a first trip. I have reduced the rating of this run from Class 6 to Class 5 at extremely low flows per their assessment. It retains a Class 6 rating with any kind of normal cfs. This stretch becomes runable when the normal Kaweah runs are on their last 2 days to 5 days of the season and then a week to 2 weeks beyond. Is this run destined to become a California classic as equipment, skills and the daring of kayakers continues to notch ever upwards?
Spring 2004 Update: This section has seen alot of action the last couple of years and several trips in the spring of 2004 incluling one trip with 10 boaters completed in 6 hours by the group of Josh Bruckner, Drew Lefshauge, Howard Tidwell, Todd Scott, Chris Young, Fred Coriell, John Grace, Toby McDermott, Nikky Kelly, and Tonya Faux.
Elevation at the Put-in: 2500 ft. Elevation at the Take-out: 1250 ft.
Length of run: 4.3 miles
Average Gradient: 290 ft/mile
Steepest Mile: 360 ft/mile between miles 2 and 3 upstream of the Middle Fork (below Sky Hook Ranch)
Overall rating: Low/Medium water: Class 5/5+, High water: Class 6 (This section is more difficult than Hospital Rock at equivelent flows)
Gauge: Runnable when the flow at Dinely Bridge is 0.2 feet and below. Flow at Three Rivers between 200 cfs and 500 cfs in the late season. (80 cfs to 200 cfs in the East Fork). Flows higher than 300 cfs on the the East Fork could be considered high water. 600 cfs is raging whitewater.
Access: ONLY at The Oak Grove Bridge and below the confuluence with the Middle Fork, and at a primitive trail departing from the downstream side of the old heliport just below Sky Hook Ranch. All other access points are on private land behind locked gates. Please respect the private property and DO NOT attempt to access the river from other than the Oak Grove Bridge. Exit in case of emergency only is possible at 3 known locations, Sequoia Cabins Trail, Sky Hook Ranch, and the 1850's Mineral King wagon road, all on river left.
Portages: It's all been run. Your mileage may vary. Some questionable fixed hardware has been placed in difficult locations such as Dead Mans Alley to facilitate portage.
Hazards: Rope rescue required in many spots, the portage around Dead Mans Alley (the triple drop), Nearly impossible exit from the canyon, and Class 6 Poison Oak.
More info: Follow this link to The Kaweah River Picture Page and the subsequent links until you arrive at the 2002 Kaweah season photos. There you will find the link to the 6-23-02 East Fork Scouting Trip with photos and topo map, as well as some photos from a descent at very low flow.
For the fun of it: Visit this section when the East Fork is flowing 2000 cfs to experience nature unharnessed. A similar experience is road scouting Horseshoe Bend or Boyden Caves on the Kings at 5000cfs.
First Descent: This section of river is rumored to have been first run in the spring of '97 by Team Perception. Rumor has the descent being accomplished with 12 portages and climbing gear to facilitate the many portages.

DON'T EVEN THINK OF RUNNING THIS SECTION!! (OK, think about it real hard, pay up your life insurance, say your prayers and have at it, but don't come crying to me if you get stuffed)

THE RIVER DROPS 1250 FEET IN 4.3 MILES (290 ft/mile average) from the nearest access point upstream. The river is cut into a spectacular Granite Gorge with shear walls and horendous waterfalls.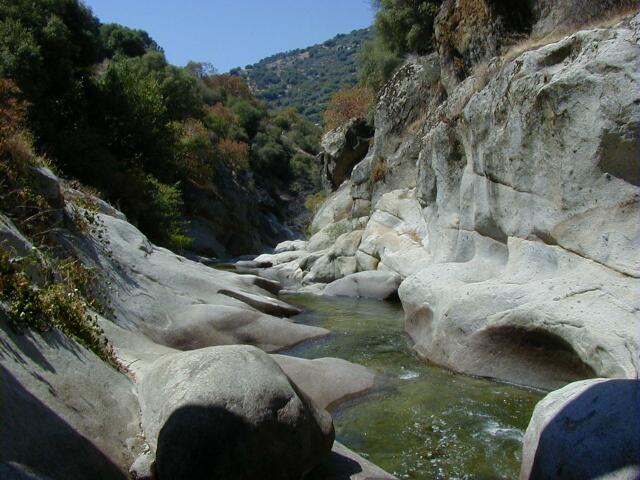 Continue Upstream to the Upper East Fork where it is really nuts.

Copyright © 1996, 1997, 2000, 2002, 2004 by Bill Pooley. All rights reserved.