Overall rating: Low water: Class 5+, High water: Class 6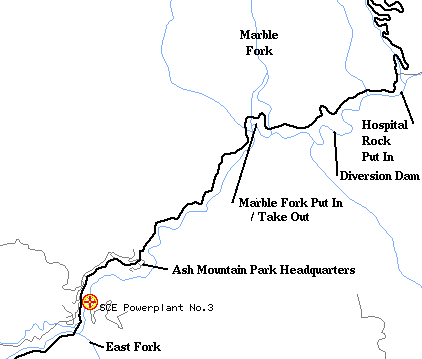 Preston Holmes' Hospital Rock Page
There is some serious white water in this section and numerous portage possibilities. Read Holbeck and Stanley's book, "The Best Whitewater in the State of California" for a better writup. The ranger you run into may not know all the park rules, but it IS LEGAL to kayak inside Sequoia National Park.
It is the position of Sequoia National Park that boating within the park is "highly discouraged", (but not illegal).
Be reminded that this section and the continuence of the Middle Fork to the park boundary is very difficult and dangerous whitewater and should be attempted ONLY by experts under the most favorable conditions in strong groups. If you want to keep this section of river open for boating, let's not have any accidents that would cause the Park Service to reevaluate their position regarding boating within the park. It is already illegal to boat within Kings Canyon National Park, Yosemite, Yellowstone, etc. Enough said.
RM 7.0 Put-In
Elev. 2600ft.

Put in below the road where the Generals Highway leaves the river at the Hospital Rock parking area, or put in anywhere above or below this point depending on the amount of gusto you intend to bite off. The river has been run from Buckeye Flat, another half mile up above the campground! Above Buckeye Flat the river goes nearly straight up.
RM 6.0 Granite Gorge
Elev. 2380ft.
RM 5.0 Diversion Dam
Elev. 2180ft.

60 cfs leaves the river at the dam. A major drop is just below the dam.
RM 4.8 Guaging Station on right bank
Elev 2120ft.

The river gradient eases up from here to the takeout below the swinging bridge, just above the Marble Fork confluence
RM 4.2 Take out above the Marble Fork Confluence
There is an easy trail to the RV dump station opposite the Potwisha Campground
Continue downstream Confluence with Marble Fork to Park Boundary

Copyright © 1996, 1998, 2000 by Bill Pooley. All rights reserved.
This page is http://www.c2.com/kaweah/log_hospitalrock.html
Last modified: 07.05.00